It's only early days, but it's interesting to note that the poll seems to have split opinion down the middle. I'll be curious to see how it turns out once it's run its course.
One of the best things about writing a book like this is the research. And for today, research involves playing games. Whether it's to take screenshots or purely as a refresher for the writing, it's always great to revisit the "old" days.
I'm about to play Monty on the Run. It's a game that is renowned for two things: its awesome Rob Hubbard music, and its high difficulty level. I actually completed it without cheating back in the day. I know my skills have waned somewhat since then, but it'll be interesting to see how far I can get today.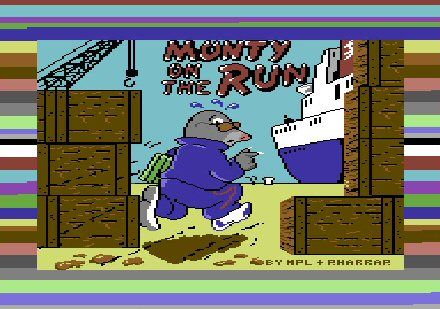 This is happening.
After that... well. we'll see where the day takes me. If I can stay off Wonder Boy in Monster Land, which I recently bought for the XBox 360, I'll write up something else.
I mentioned Kickstarter and crowdfunding in my first blog post. It's not a road I need to go down yet, but I do keep an eye on Kickstarter as there are a lot of retro-themed games (or games-related) asking for funding there, which are often of interest to me. The biggest successes are well-know at this point: Tim Schafer's Double Fine Adventure; Brian Fargo's Wasteland 2; and Jordan Weisman's Shadowrun Returns. All surpassed their wildest dreams in terms of funding. But there are other, lesser-known projects out there that are worth a look, and I'm going to leave this post with a few links of interesting projects that are ending soon.
Turrican Soundtrack Anthology by Chris Huelsbeck - interesting for anyone into Amiga music, ends in three days.
Drifter: A Space Trading Game - an Elite clone that actually looks like it will be worthwhile, ends in four days.
Pinball Arcade: The Twilight Zone - the Pinball Arcade developers aim to recreate one of pinball's most revered tables. They've now been able to add XBox 360 support - quite exciting!
I'm backing those three... have a look!