Just a quick little post to tell you about something I picked up on a whim today. It's called
Doppelganger
, and it costs a mammoth 80 points on XBox Live Arcade's Indie Games.
Oh, alright... that would be a bit too quick. I'll go into a bit more detail.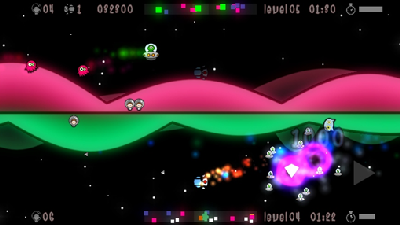 Awww. Little cute alien versions of Defender's nasty ships. They're all still trying to kill you, though.
Doppelganger
is basically a cross between
Defender
and
Iridis Alpha
.
Everyone
knows
Defender
. Most people that read this will know
Iridis Alpha
... for anyone that doesn't, it's a classic shoot 'em up from Jeff Minter, which splits the insanely fast shooting gameplay across two levels on a split screen.
What
Doppelganger
does is to remake
Defender
with really cute graphics, and then apply
Iridis Alpha
's split screen mechanic to it. So if you didn't think that
Defender
was hard enough as it is, try playing two games of it at the same time.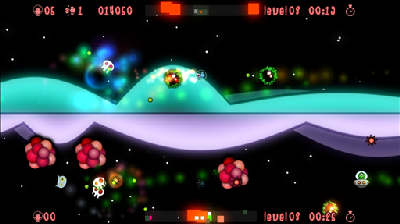 Top level... bottom level... top level... oh, hell, there's carnage everywhere!
It's not actually as bad, or should I say as hard as it sounds. The levels are kept fairly spacious, with not too many enemies flying around. At least, that's how it is for as far as I've managed to get in the game... doesn't mean it'll stay like that. And that also means in my few quick goes that I wasn't very good at it. Still, for 80 points I would say that
Doppelganger
is going to give me way more than my money's worth. It's a lot of fun and promises to be a real challenge for any old-school arcade shooter fan.