I've mentioned it before, a long time ago, that I'm not exactly steeped in the Nintendo lore. So there are tons of games ripe for exploration, enjoyment and blogging. That said, it can be hard to stick a pin, as it were, and decide on what to play, so recommendations are always welcome.
One game that I've heard talked about as a bit of a must-play is
River City Ransom
. That's all I could remember about it prior to today... I didn't know what it was about, what you had to do or anything. What better way to find out than to just dive right in?
Barf? I must have hit him really hard!
I was pleasantly surprised, at first, to find a game that was not unlike
Double Dragon
or
Renegade
(it felt a little more like
Renegade
to me). And, in fact, research showed that this was the third entry in a series that started with...
Renegade
. Damn, I'm good! And if you haven't heard of
River City Ransom
and live outside the US, well, it was known as
Street Gangs
in other territories. Isn't the internet wonderful?
River City Ransom
is another in the long line of videogame tales that see your useless girlfriend captured and imprisoned and in need of rescue. One of these days, someone is going to program a game where that happens and the hero just says, "Ahhh, fuck it" and goes out and gets another girlfriend. That would be pretty subversive. Until it happens though, we chivalrous (in-game) fellas will keep on putting our lives on the line, battling past innumerable hordes of bad guys for the honour of our girls.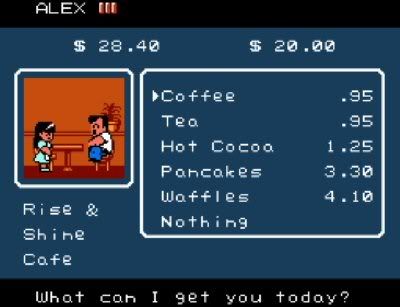 Oh man, I could murder a decent cuppa (and about a thousand goons).
The game features a number of inner-city locales to batter your way through, including parks, building sites, tunnels and buildings, and each of these locales is the turf of one of the many gangs that are featured. It's not quite
The Warriors
... each gang is determined only by the colour of their shirts... but it still adds a welcome sense of scope to proceedings.
Also featured in the game are high street shopping areas. In these, a number of shops can be visited and their goods purchased. These goods will go towards increasing your character's stats, be it through the eating of food or drinking of beverages (which will replenish lost stamina and energy as well as increasing maximum levels). You can also buy books which, when read, add extra moves to your character's moveset. This is a pretty cool touch, actually.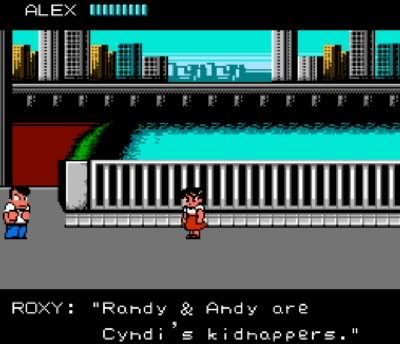 They what> The bastards! But I... I...
trusted
them!
One thing I noticed, bearing in mind that this is the first time I've ever played this game...
River City Ransom
has obviously been a massive influence on the whole
Scott Pilgrim vs The World
phenomenon. In fact, I would go so far as to say that the recent downloadable
Scott Pilgrim
game is almost a carbon copy of
River City Ransom
. I was amazed at how similar they are... I played
Scott Pilgrim
on the 360 when it was released, but not having been a NES owner, I didn't realise the extent to which it had been an influence. I suppose it's the sincerest form of flattery, especially as the
Scott Pilgrim
game was done so well and so lovingly.
River City Ransom
is a good game, although its limitations can become a little wearying after extended play. You're only ever attacked by two enemies at once, which is a bit dull... that said, they often attack at such speed that you're easily caught out. I'm not a fan of the way you have to move three-quarters of the way across the screen to push the scrolling... it's a bit awkward. And I never actually saw an endgame as such... I didn't play it through to the end, but every time I died I was just put back to a recent point; there was no Game Over.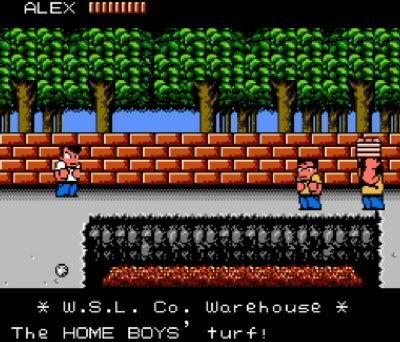 Hey, what's up homies? What's that? You want to batter me with bricks? Harsh.
Because the game never seems to end, the repetitive nature of the gameplay can become a little boring. Then again, that's the danger with almost every scrolling beat 'em up. At least you have the extra depth that comes with the RPG-Lite elements, and it's a little harsh to criticise what was obviously quite revolutionary for its time, and is still a pretty decent and fun game when it comes down to it. It's got me looking forward to digging out a few more NES games now.
Why is it called River City Ransom when you're not going to pay a ransom?