I'm constantly on the lookout for new games to play, not just for the blog but also for my own entertainment and education. I've said it before... I've played thousands and thousands of games in my lifetime, but for every one I've played there are probably ten that I haven't.
Commodore's Amiga is a machine that I have fond memories of despite not having owned one until recently. It has a number of games that I really love, but stacks that I've never heard of. One name that I've heard mentioned in revered tones of late is
Hybris
.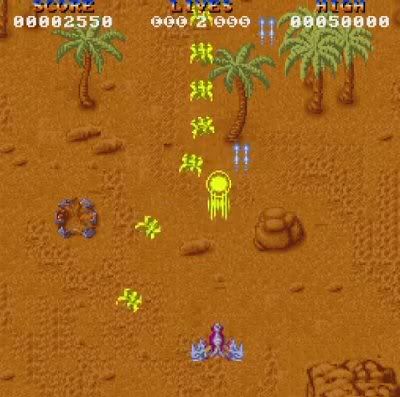 Pew! Pew! Shooty shooty aliens!
I didn't have any idea what it was about, although I'd gathered it was a shoot 'em up. Great... I love a good shmup. My chances of playing it seemed slim, though, seeing as I didn't own it... but then my mate Alan fixed me up with GameBase, and finally I had a hassle-free way to play the game.
If there's one arcade game that
Hybris
takes its inspiration from, it's
Terra Cresta
. The backgrounds are similar, the attack patterns are similar, the weapons power-ups are similar... even down to the way you can split your ship for more deadly firepower. And that's all well and good, because
Terra Cresta
didn't get a release on the Amiga.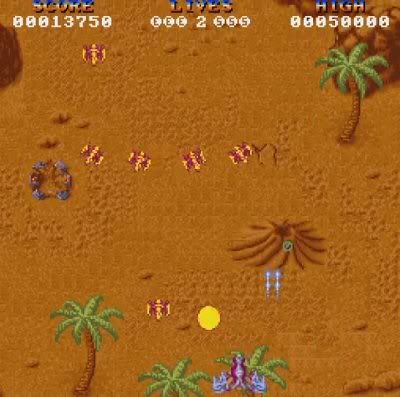 Hey, that's not fair! Stop ganging up on me!
There's a plot, but what do you care about that? All you need to know is that you're flying a heavily-armed craft over a planet's surface, wiping out ground-based defences and enemy craft. What matters is how well it's done. And in
Hybris
it's done really rather well.
The blasting action is satisfying, although attack patterns are somewhat limited, but even with that being the case it's easy to find yourself getting caught out and having to fight your way out of trouble. You get large points bonuses for wiping out entire formations, and you can pick up other bonuses by uncovering hidden objects,
Xevious
-style.
There are bosses too, of course. The few I've encountered have been slightly more interesting than usual. Nothing spectacular, but with slightly more unpredictable patterns than usual. You need to be on your game to see them off.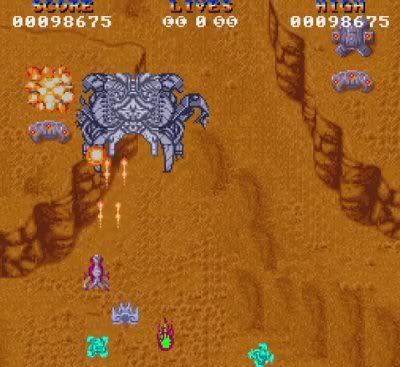 You're not the boss of me...
I'm really glad that I picked up on the talk about
Hybris
. It certainly ranks up there as one of the better shooters that I've played from the home computer era. Pity I never got to have a go back then, but it's always better late than never, and I'd like to have a bit more time with it. Oh, look, here's a video of one of my games! Let me know what you think, I might try and do more of these.
Amiga shoot 'em up Hybris, in action.