I love
Sega Rally
. From the arcade and Saturn versions right up to its rebirth on the 360, it's a great racing game. The original version was most definitely an arcade game... short, sharp bursts of racing on a small number of tracks, with hardly any cars available. It handled like a dream, and constantly kept you coming back for more in the hope of shaving milliseconds from your best times.
The current-gen update of
Sega Rally
(known as
Sega Rally Revo
in the States) was an altogether different beast in a lot of ways. It retained the awesome handling, but added loads of tracks in the form of Championships and Leagues. It was, and still is, eye-wateringly, hair-tearingly difficult. I mean, it's rock hard. Every now and then, I'll find myself loading it up in the forlorn hope of eking out a few points so that I can unlock the next League. It's so, so hard. And yet, I still love it.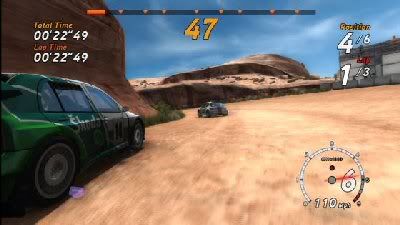 Wonder if that place is open? I fancy a bacon sandwich.
Now we have
Sega Rally Online Arcade
, a Live Arcade title by Sumo Digital, weighing in at just 800 points. What a bargain! Or is it? I've had a good go at finding out.
Sega Rally Online Arcade
follows
OutRun Online Arcade
in updating a classic Sega arcade game for the XBox Live Arcade market.
OutRun Online Arcade
was amazing, featuring the classic five-ending race and a Heart Attack Mode. It was also a great high score game, and I was involved in some epic tussles on my Friends Leaderboard, with positions changing all the time. In the end, my son Aidan, who was eight years old at the time, emerged at the top. Little swine.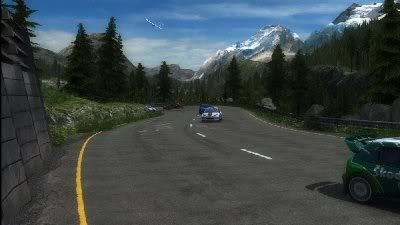 Nothing like a quiet Sunday drive in the countryside. And this is nothing like, etc...
You're not going to get as much leaderboard fun out of
SROA
, because you don't score points. You're also not going to get as much depth... whereas
OutRun
has fifteen different stages to master,
SROA
has only five (as far as I know at this point - oh, and they're all similar to those in
Sega Rally Revo
). You can tackle three of them from the outset in the Quick Race Mode, and if you try the Championship and race through all three in first place, you will unlock Lakeside... finishing first in that one will see you unlock it for Quick Race play.
The fifth course is the classic Desert course from the original
Sega Rally
, and you get to race on that using the classic cars from that game. It's a lovely touch... it would be lovelier if you got all the original tracks (I don't know at this point that you don't, they may be unlockable, but it doesn't look like it).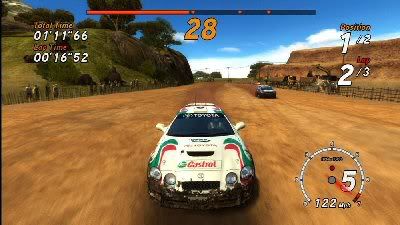 Say hello to an old friend...
I have to say that the car handling feels different in this game to past games. I find that a bit odd in some ways... surely it should feel the same as the first 360
Sega Rally
? But it's a bit more arcadey, a bit more forgiving. Whereas I love that first 360 game, it really is rock hard and that's offputting to some. This one can be blasted through fairly easily. It's an exercise in fun. You wouldn't enjoy battling your buddies if you were gnashing your teeth at the difficulty level, would you?
So, it doesn't sound like you get that much, but it's only 800 points, which is a bit less than seven quid. And I think the focus is set more firmly on the Online aspect... this IS an arcade game, and the intention is to fire it up for a quick blast with your mates, with the single player mode being ideal for practicing or if you fancy a bit of high-speed action without any major time commitment. I reckon it does the job very well for the price... see you on the beach!