Finding new games in the genuine old arcade style these days can be a bit tricky. The current generation of consoles is a decent place to look, with big name companies producing updated versions of their classics, and services like XBox Live's Indie Games being an outlet for bedroom coders to release their latest homages to games from yesteryear. WiiWare and Playstation Network are great outlets for indie innovation, and the iPhone has risen to great heights as a gaming platform. The PC though, as ever, still seems to be the main breeding ground for small-but-great arcade games. Even so, it still takes something really special to stand out... and
Hydorah
is something really special.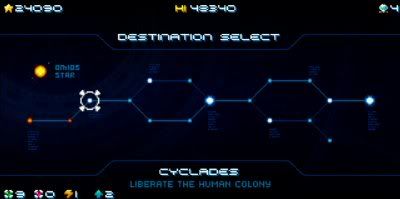 Don't have much choice here... liberation of the human colony it is!
I'm not entirely sure where I discovered
Hydorah
, but I will remain eternally grateful to that person or place. The reason for this is that
Hydorah
is a
Gradius/Nemesis
-inspired shooter, and I happen to be rather fond of that particular arcade game.
Of course, there are plenty of
Gradius
-inspired shooters that aren't very good. But with
Hydorah
, programmer Locomalito obviously took a lot of time, care and attention in making sure that this game was a fantastic and authentic shmup.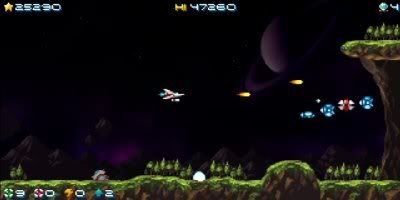 Isn't the countryside nice? Lush green grass, rolling hills, deadly enemy spaceships...
Hydorah
features sixteen levels, although the chances are you'll never see most of them. As I said, this is an authentic arcade shooter, and that authenticity extends to its difficulty level - it's rock! Actually, in saying that, if you're careful then you should progress quite well. Any time you die, it's your own fault, the game will never cheat you. But you do have to be good... really good... if you want to get anywhere.
In a way that's a bit of a shame, because there's so much to love in
Hydorah
. Of course, there's a huge amount of stuff to blast. It looks absolutely gorgeous, and sounds great too, with some music sounding similar to classic SNES tunes. It's even got little secrets tucked away to try and discover. But as I said, you might never see most of them.
In an interesting twist, if you destroy that factory you'll lose points.
Still,
Hydorah
is truly worth persevering with, particularly if you have any love at all for
Gradius
, or any 80s arcade shoot 'em up, really. It's a wonderful piece of work, which makes it all the more surprising that it's free. I would seriously pay good money for this game. I'm not sure if there's a Donate option because the website is down at the moment, but you can download the game here:
Hydorah download.
I would seriously recommend anyone download this immediately. If it's your thing, there are also two soundtracks available:
the original soundtrack
, and
a selection of arranged tracks.
Hydorah
is a brilliant homage to the glory days of the arcades, and a fantastic game in its own right. The only reason it isn't higher on my list is because I'm rubbish at it. But that hasn't stopped me from playing...
EDIT:
The website is back up now
, and there is indeed a "Donate" button. So I'll be chipping in, it's well worth it. Have a look at the site, there are some cool extra materials, such as an instruction manual, and everything you need to make a DVD version of the game.