"I, Ball! I-I-I-I, Ball! I, Ball!"
I just about shit myself the first time I loaded this game and it shouted that at me. They could have put some kind of warning in the instructions or on the loading screen, or something. I'm sure it just said "Music and FX by Rob Hubbard".
It's an odd game, this one.
I, Ball
's family has been captured by the evil Terry Ball (groan) and I, who managed to escape, is in a hurry to get them back. What follows is something of a race against time, with guns!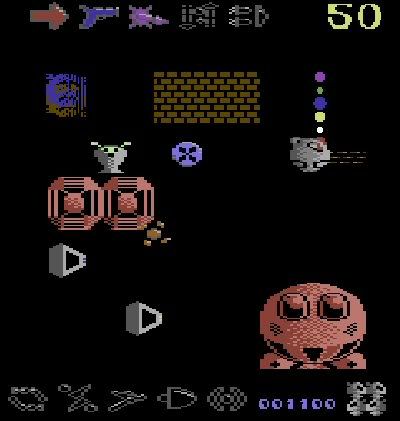 GIANT ENEMY CRAB! Well, sort of.
You have to whizz up the screen before time runs out on the level. Making this more difficult are the peculiar obstacles in your way... some are merely that, whereas others are radioactive and deadly to the touch. You just bounce off the ordinary obstacles, but this can cause enough of a problem... bouncing into a deadly obstacle or enemy is not nice!
There are loads of constantly respawning enemies, although it's a few seconds before they become active and therefore threatening. It's best to shoot them at this point, but you have to be careful because your lasers can overheat. To help you out, discs can be picked up along the way, and these can contain all manner of impressive weaponry.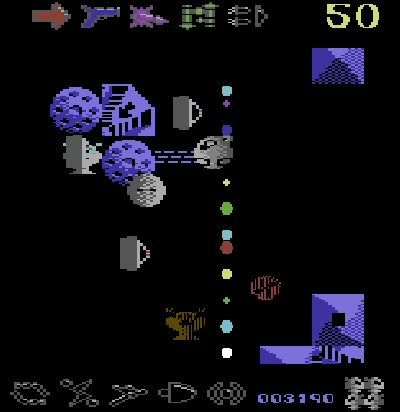 Taste the rainbow of fruit flavours, y'bastards.
With sixteen levels, lots of blasting action and a great Rob Hubbard soundtrack,
I,Ball
was well worth the £1.99 at the time. I enjoyed playing it again now... there are some niggles, with the collision detection on the obstacles being a bit ropey and causing more problems than necessary. It's still an entertaining and challenging blast, though.