Dragon Ball Z Ultimate Battle 22 (PS1)
I must admit, not only did I not get into the whole
Dragon Ball Z
thing, I never even gave it a second glance, other than to occasionally ridicule the hairstyles. I still don't particularly know what it's about, but then I could say the same thing about
Pokemon
. It's because I'm getting old, I guess. But from watching the intro movie to
Dragon Ball Z Ultimate Battle 22
, I suppose that kids watching this today is a bit like the equivalent of me watching
Battle of the Planets
when I was nine. So I guess it's OK, really.
Dragon Ball Z Ultimate Battle 22
is, as you would expect, a fighting game. I've never got on that well with fighting games, generally speaking, so I wasn't really holding high hopes for this one. Still, unto the breach...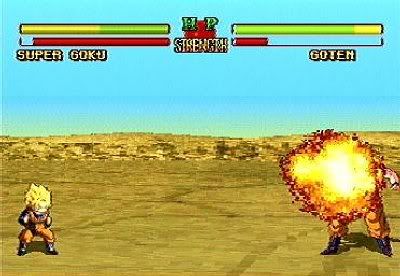 You have to figure that hurts...
There are a few modes to choose from. The first, and probably most obvious and most played, is 1P VERSUS COM. This mode sees you taking on 22 opponents to win the game. So that's where the
22
of the title comes from, then. The other main mode is kind of like a tutorial with RPG elements... apparently you can take your charater and build up their attributes. I wasn't entirely sure how that worked though.
As with a lot of these things, it obviously doesn't take itself too seriously. I picked this up right from the character select screen, with names such as "Piccolo", "Little Trunks", "Super Trunks" (obviously the one to go for from those two!) and "Likum", this is not a game without a sense of humour, probably at its own expense. So, wandering through the different odd-looking types, I was about to settle on "Super Trunks" as my on screen persona...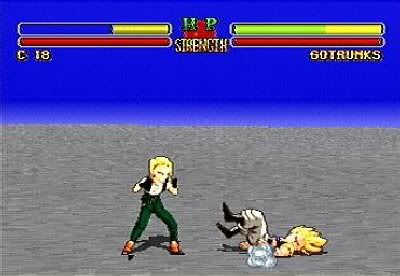 Haha! You're getting beaten up by a girl! Well, a girl robot...
...and then I spotted a character called "Genious". So THAT'S why so many people of a certain age mis-spell the word "genius" on the internet! Damn you, Dragonball Z, damn you to hell!
Once I got into the fighting, it was all just a bit dull. Each character has about half a dozen special moves, but there's not that much variation in them, either in execution or appearance. Graphically it's ropey... although that's partially down to the original style of the characters. There's not much variety in them... they've either got stupid spiky hair, are bald or are androids. There's not much that can be done to help them.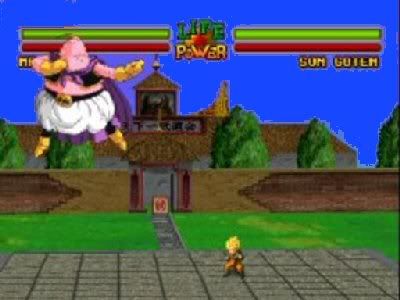 This seems like a bit of a mis-match...
I imagine
Dragon Ball Z
fans might get something out of this... 22 characters seems like a decent roster for a fighting game based on a cartoon. The gameplay itself is not much fun and very samey, but I imagine if you're a fan you'll take the time to learn the moves for all the characters, in which case there's hours of play to be had, I didn't enjoy it, so even my hour's worth felt like it had gone on too long.