Need for Speed: SHIT
.
That's all I was going to write about this after five minutes. Why? It's because, before you even get to play the game, you have to throw an uncontrollable slidey car around Brands Hatch, and the game evaluates your performance and recommends game settings. After my first lap, the setting recommended for me was "you're shit". It just felt horrible to drive, and I was worried that I'd made a mistake in picking this up...
The
Need for Speed
series has had something of a chequered history... something I might go into in greater depth at some point for this blog. If the
Need for Speed
ride has been something of a rollercoaster, lately it's been on one of the slow, dull points where you're waiting for the fun. I appreciated where they were going with
ProStreet
, but there was just too much wrong in there to make it really worthwhile.
SHIFT
was touted as a reboot, so I was excited to play it... until those first five minutes...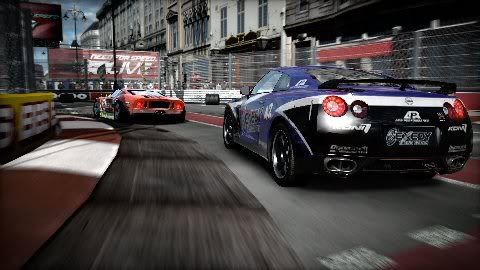 Pretty cars, going fast.
Still, after a little tweaking of the settings, I figured I'd at least try a few races. I had a different car, so I hoped it wouldn't be remotely as twitchy and I could actually get around the track like something approaching a racing driver.
Whaddya know? It was miles better. Not just that, but it was actually enjoyable.
Need for Speed: SHIFT
is a much more focused racer. In fact, it's steered away from the cop chases and boy racers, and into competition with the likes of
Forza 3
. That could be some dangerous territory... even moreso, if they'd managed to get it horribly wrong...
Those driving gloves I got from auntie at Christmas have come in handy...
Luckily, from my first couple of hours with it, they didn't get it wrong. Once you've "driven" your test lap and you can actually get into a car that works as you'd expect it to, it all feels a lot better.
It has to be said, in rebooting
Need for Speed
, the programmers have taken a fair bit from other games. Besides the now tried-and-trusted arrows on the track for the racing line and braking areas, you earn stars for good finishes, which unlock other cars and races, and you also level up, something which is a big part of
Forza 3
. Interestingly for a racing game, all the Achievements are earned in the single player game.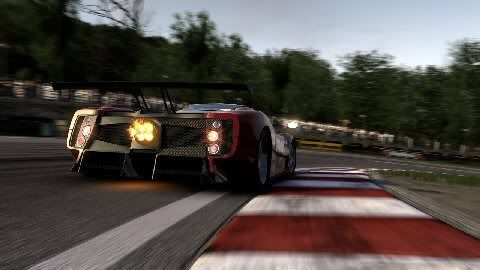 That reminds me, I haven't played Afterburner for a while...
The main innovation here comes with the effects used when you have a heavy bump. You get a sensation of being briefly concussed, which is pretty jarring and does affect your driving and make you think twice about driving straight into an opponent just to help yourself around a corner.
Aside from that, it's standard but high-quality racing all the way. You earn money for doing well, with which you can buy new cars or upgrades... but ~I feel that it's handled in a better way than earlier
NFS
games.
SHIFT
is certainly a massive step in the right direction for the series, being a serious racing game whilst still retaining just enough of an arcadey feel to make it easy to get into. I do miss the cop chases, though...