Angry Birds (iPhone/iPod Touch)
There really isn't much that needs to be said about
Angry Birds
.
I loved it when I first played it
, and I still love it now. IT's become something of a phenomenon, though, pretty much taking the world by storm.
There's about eight of us in my office that have
Angry Birds
, and the great thing is, it appeals to all kinds and all needs. The OCD gamers have had an amazing time, blasting through all the levels and feeling a compulsion to three-star the lot. That takes some doing, too! But those that have less time on their hands can just play two or three, or until they get stuck, and then put it down again.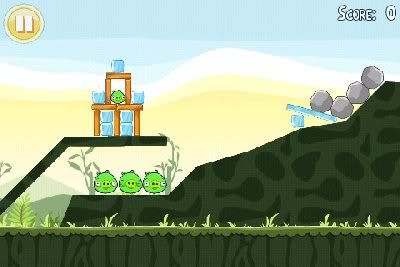 Well, that's just an accident waiting to happen...
It really is a genius piece of design. A level can last ten seconds or, if you get stuck, an absolute age. But they can always be figured out, and you can fit sessions into almost any spare time you might have.
Since I first played
Angry Birds
, an update has been released, which adds even more levels to the game, plus a couple of extra little features. It was fantastic value for 59p before, but now there's absolutely no excuse for anybody not to own it. Unless they don't own an iPhone or an iPod Touch. That'd do it.