Have you ever played
Star Force
? It's a classic arcade vertically-scrolling shoot 'em up, albeit probably underappreciated. It's not exactly a giant name of the arcades, but those in the know... well... they know.
Star Force
was in one of Consett's taxi offices in the Eighties, and I spent a fair bit of my pocket money on it. It plays so well, and you always feel capable of doing better. When you don't, it's your own fault. I loved it, and longed for a conversion for my Commodore 64. It never came.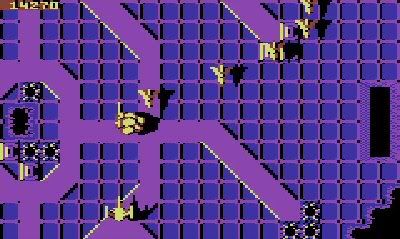 You can tell they're aliens... look at that colour scheme!
There used to be a big bus station in Consett. It was shaped like a giant crescent, and it had all kinds of nooks and crannies. Some held taxi offices with arcade games. One held a second-hand bookshop. Ever keen to expand on his empire, the bookshop owner sold second-hand computer games, too. It was a good way for us kids to expand our collections... newish games were available at pocket money prices.
On one of my ventures into the bookshop, I saw
Firetrack
in the box of Commodore 64 games. I remembered it had had a good review in ZZAP! 64, and when I looked at the back of the box... it looked a bit like
Star Force
! And so, £2.99 later, it was mine.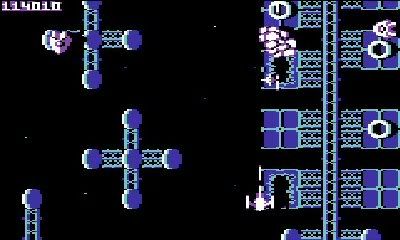 That's a bit easier on the eye. Blows up nicely, too.
To be honest, I think that if someone had attempted to convert
Star Force
to the Commodore 64, it probably wouldn't have been as good as
Firetrack
. It's probably the best vertically-scrolling shooter on the system, and yet, like its arcade inspiration, was woefully underappreciated in its day.
There's a plot, but it's stupid and irrelevant. All that matters here is that you've got alien landscapes and ships to blast. The first level sees you up against fairly slow attack waves... they're easily dispatched... if you concentrate. It's easy to find yourself distracted, because each level is littered with + and X shaped squares, and if you destroy these they increase your bonus at the end of the level. There are also question marks at regular intervals... destroy a certain number of them and you'll be awarded an extra life.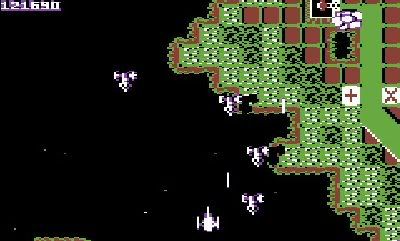 Awww, that looks like little allotments. Burn them all!
As you progress through the levels, the difficulty increases... first, the attack waves get faster, and then they start shooting at you. Eventually, it'll take all your mettle and reflexes just to carry on.
Firetrack
, for me, is an excellent arcade shoot 'em up. I haven't found too many that agree, but on the other hand, I haven't found that many that have actually played it. I think it suffered at the time because it was released right at the time weapon pickups became popular. That doesn't bother me.. I'm all for simplicity and purity if the game is good.
Firetrack
is very good, and I've really enjoyed playing it again.