Sorry for the lack of an update yesterday... I had my game lined up and then couldn't get it to start! I'll try it again on another system soon...
Microsoft threw
Game Room
at us from out of nowhere a while back, and since then, I've been waiting excitedly for its arrival. Now it's here I've snapped it up, and thought I might as well give my initial impressions.
In case you don't know what
Game Room
is, I'll tell you. It's as close to owning your own arcade as you'll ever get, unless you win the EuroMillions.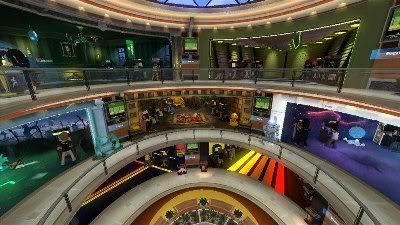 Look at the size of that place! You could fit stacks of games in there.
The setup, I think, is quite nifty. You're given a huge building interior, with loads of rooms, and you can fill these rooms with arcade machines. Some are actually classic arcade games, and some are custom-designed machines that play old console classics... currently for the Atari 2600/VCS and Intellivision. I'm not sure if other systems are in the pipeline, but you'd have to imagine they will be.
You're given a few themes to choose from at the beginning, so you can set up each room in a different style, and then plonk your games in whichever room you feel appropriate. There's also different items of decor that can be strewn about for added ambience. More themes and decor can be unlocked as you play in your Game Room.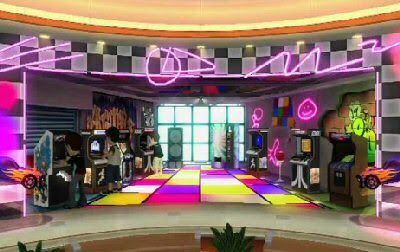 I love the 80s! To cater for the likes of me, many themes are available for your rooms.
An added extra which adds something unique and fun to the gameroom is the mascot feature. Each game has a mascot, based on a classic iconic character from within the game. These can be bought separately at the shop, or you'll get them for free if you buy the game on its release date. It's fun to see these little daft characters pottering around in your arcade... I love seeing the Adventure duck/dragon roaming around, and characters are in danger of a kick to the head from my Shao-Lin's Road mascot (not really!).
There are down sides... the range of launch titles is not the best, meaning that you're unlikely to find any well-stocked arcades on your travels just yet. Still, as time goes by this will improve, and I'm genuinely excited to see how my arcade builds up over time.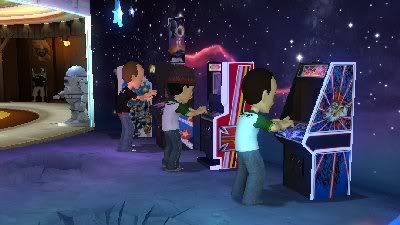 Ahhh... happy memories. And barring gaming megaplexes, the only time you'll see your mates standing at arcade machines.
Also, there are server problems. So far, I've found it pretty difficult to upload any challenge scores... it's a shame that this isn't running smoothly, because the potential that exists from challenging your mates is massive. I'd hate for them to be put off because they can't connect to upload their score.
Still, I see masses of potential in
Game Room
. A lot of people are unhappy with it... unjustly in many ways, I think. It has to bed in before it can be properly judged, but I think that if you used to hang around in arcades when you were in your teens and/or love 80s arcade games, then
Game Room
is going to eat up a lot of your 360 time in the coming months... I'll revisit this one a little way down the line, to see how it's holding up.