I've read a lot about
Darwinia
over time, and it's always been highly recommended. I've never been sure that it was for me, though, but with it being on special offer on Steam a while back, I figured I'd pick it up for the purposes of this blog, and if I liked it, so much the better.
It gets off to a good start, with lots of lovely retro touches appealing to the old-school gamer in me. There are distinct throwbacks to the Spectrum and the Amiga, providing an instant pull, although they're purely presentational. Still, they got me in, which was a good start.
Trouble is, the rest of the game had me baffled.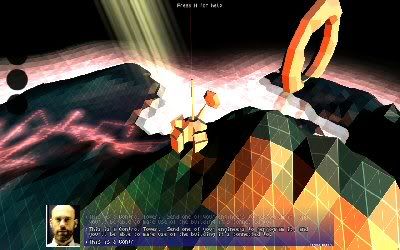 He's telling me I need to create an engineer to fix that building. The place to do that is quite far away...
I lay part of the blame with the game itself... it doesn't really signpost you at the beginning. Seasoned strategists will no doubt not view this as a problem, but for me, I spent ages scrolling around the landscape, looking at the nice things but wondering what on Earth to do with them.
Eventually, I accidentally discovered how to create some units. That was good. Then I put them on the map, and they were all wiped out by the virus that was spreading across the landscape. That was bad.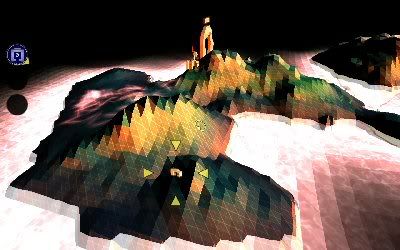 And there he goes, on his way to repair the building. Sadly, he will be obliterated before he gets there. Every time.
After an hour or so, I stumbled across a set of goals for the level. So I was making progress of a sort, although after another twenty minutes I still didn't have a clue how to achieve the first of the goals.
I swear that as I get older I'm becoming stupid. Also, impatient. I was already aware of the second one... I used to spend hours figuring things out in games, and now I just can't be bothered. It looks like I'm falling victim to today's world of instant gratification. These are two things I'm quite determined to shake... I need my brain to be of a certain standard for one thing, and for another, there's a lot of reward to be found for just a little patience.
Darwinia
deserves my patience, and the use of my brain. I may be down with this one, but I'm not out just yet...