I haven't played many sports games for this blog... odd, seeing as I like a good sports game as much as anyone. So what better way to spend a lazy Saturday afternoon than with a nice game of cricket, in the company of everyone's favourite tubby Aussie lothario?
This is not a game that I was aware existed. I certainly can't remember seeing it on the Megadrive shelves in games stores, and I never read a review. Still, videogame cricket is videogame cricket... it's quite hard to mess it up, but it's also quite hard to make it different, or even good.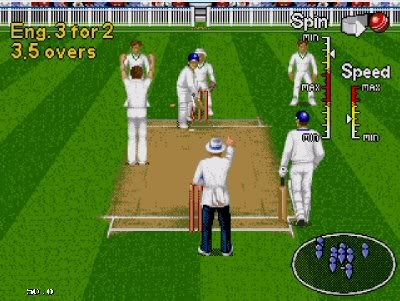 Thorpe employs the famous "Gower waft", with familiar results.
Picking England in a one day match against Australia, I settled down for a nice gentlemanly sporting afternoon. And it started off in a sedate fashion, with the computer opponent letting me settle in and get my bearings. I wasn't scoring runs, but I wasn't getting out, either, and I was somewhat getting to grips with the controls.
And then my opponents unleashed hell.
It wasn't that they did anything spectacular... just line and length in the corridor of uncertainty, with a few balls dead on the stumps. And as with any cricket game, if you aren't getting the timing right, you're going struggle, and that was the case with me. Athers departed cheaply. Stewart and Thorpe didn't fare much better. Nor did Hick, or Fairbrother. In the end, my entire England team was skittled for... four.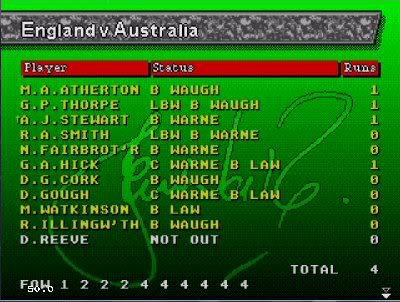 Pathetic. We did have a nice partnership of two in the middle order, though...
Four all out.
Australia won by ten wickets, knocking off the required runs in three balls.
That's a pretty catastrophic result, even by England's standards. But that's how it usually goes with cricket games... it takes a fair while to get to anywhere approaching proficient. I actually quite liked it, despite my drubbing. I can see it being a good game to play on a rainy Sunday afternoon, just whiling away the hours with a good thrashing. I'm aiming for double figures... I reckon I can get there after a few more games...