This is cheating, because I've been playing it solidly for ages. But I'm just throwing in some games that I've been playing "properly" because, well, I want to!
It seems odd to say this, but going by what people are saying, Forza 3 is something of a Marmite game. The people that loved Forza 2 for its difficulty and seriousness seem to be underwhelmed with this new iteration, feeling that it panders a little to the arcade crowd.
For my part, I can't really argue with that. I found Forza 2 far too difficult, and I'm not into tuning and modding, so I really struggled. Forza 3 has a Quick Upgrade feature, which means I can be competitive in the game without having to know the ins and outs of downforce and braking performance and engine capacity. In other words, I'm finding it much more fun.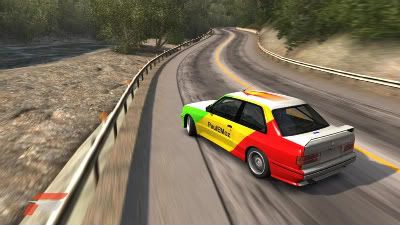 Look, ma! Look what I did!
In fact, I'm enjoying this game so much that I've even dabbled with the paints and vinyls, and I haven't got an artistic bone in my body. And the fact that the multiplayer, the one part of Forza 2 that I did enjoy, has lost none of its appeal just sticks the cherry on top.
Forza Motorsport 3 is a beautiful looking, highly enjoyable racer that straddles the line between arcade and simulation just right... for anyone that loves arcade racing. If that's you, you'll probably be able to overlook the flaws that more serious racers have found with the game, and get on with the business of having some high-speed thrills.