It's a bit of a stretch to say I've never played this. However, it is fair to say I haven't played it properly. See, when I owned it in the States, my Gamecube was hooked up to a 19 inch portable telly, and I was sitting ten feet away. And if you've ever played F-Zero GX, you'll know that that's no way to play it.
Now, I have a bigger telly. It's a 32-inch HD telly, which while not exactly being state of the art, is a nice telly and much better for gaming. So I figured it might be time to try F-Zero GX again.
And it's a much better experience on a bigger screen, that's for sure. Tear-arsing around at 1600 km/h is better in every respect when you're displaying it on a larger area. Speed apart, everything still looks pretty nice and sharp these days. In fact, I can't help wondering if the Wachowskis' Speed Racer movie was partially based on this game. The crazy looping tracks, the eye-searing colours, the insane speeds, the battling element... all traits that Speed Racer and F-Zero GX share.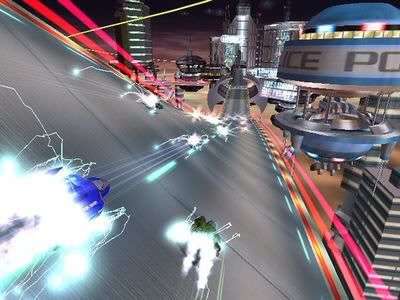 Wish I hadn't had that sandwich before the race...
Having said all that, I can't say that I really enjoyed F-Zero GX any more, this time around. I still had a lot of trouble getting around corners smoothly, and in my first set of races, never finished higher than 20th. Things improved in my second series with a different vehicle... I actually finished second in one race. That was ruined when I couldn't negotiate corners on another race and ended up going from first to 27th in a matter of seconds.
Basically, I'm not very good at F-Zero GX. I realise that it's a game that needs a fair bit of practice in order to become close to proficient, and so it's not really for me. I think I'm doomed to suffer a dislike of futuristic racers for eternity...